Maths

All of our pupils will be taught in a style that we call maths mastery.
Mathematics mastery is a journey that children will acquire throughout their primary school life and beyond.
It is about giving children the best chance of developing a deep, long-term and flexible understanding of the subject. At any one point of a child's journey through our school, achieving mastery means having a solid enough understanding of the mathematics that has been taught to enable him/her to move on to more advanced material.
VISION
Our shared vision is for children to develop an appreciation for mathematics and see it as a subject where they can explore and be creative.
They should be curious and enjoy their mathematical learning; understanding that it will play a significant role in their future. At the end of each year, children should master their age-related expectations and have a firm foundation upon which to build.
AIMS
The national curriculum for mathematics aims to ensure that all pupils:
To implement the current legal requirements of the EYFS: Mathematics area of learning and the Mathematics Programme of Study for Key Stage 1 and 2.

To foster positive attitudes, fascination and excitement of discovery through the teaching and learning of mathematical concepts in a creative, lively and engaging environment.

For our children to adopt a growth mindset in mathematics and perceive themselves as mathematicians.

To broaden children's knowledge and understanding of how mathematics is used in the wider world.

To encourage children to identify and describe patterns within mathematics and use them to make connections, reason and solve problems.

For our children to use and understand mathematical language and recognise its importance as a language for communication and thinking.
In order to support children's development in maths, we have introduced a variety of exciting resources to help motivate, support and challenge pupils in mathematical concepts.
Through our mastery approach to maths our aim is to give children the tools and strategies to move from using concrete resources to being confident at using abstract approaches in their learning. Too many parents share the example where the they have only been taught abstract strategies and without concrete understanding there can be weaknesses in the understanding. We want our children to be confident mathematicians who can prove their strategies are correct and use reasoning across the curriculum.
PROBLEM SOLVING AND REASONING
Problem solving and reasoning are two vital skills in mathematics that promote deep mathematical understanding.
These skills can sometimes overlap and may be used hand in hand. For example when starting to solve a problem, reasoning skills may be needed if there are a range of possible starting points. Fundamentally, they are two separate skills and teachers should understand what they are and how they are different.

NUMICON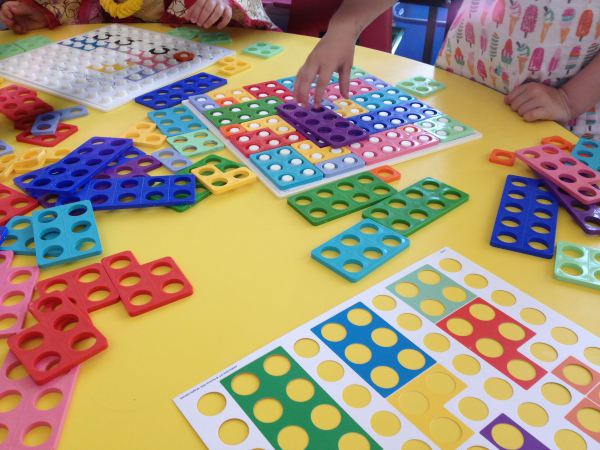 Numicon is a multi-sensory approach, built on a proven pedagogy that raises achievement across all mathematics ability levels.
With problem-solving, reasoning and conversation at its heart, Numicon perfectly embodies the aims of the Primary National Curriculum 2014 for mathematics as it:
Develops fluency by using a visual, practical base to develop conceptual understanding and fluent recall.

Helps children to reason mathematically through the use of concrete objects and spoken language to explain and justify.

Develops children into confident problem solvers.
INTERVENTION GROUPS
In all our classrooms at Millbrook Park we have great teaching assistants who support children with their learning.
Children who have gaps in their knowledge are supported through our intervention groups in each phase.
TIMES TABLES
We expect all children at Millbrook Park to have a secure grasp of the multiplication tables.
Just like learning to walk before you can run, learning multiplication and memorising the times tables are building blocks for other maths topics taught in school - higher learning such as division, long multiplication, fractions and algebra. Students who do not memorise the times tables will find these levels of maths much more difficult than they need to be. Students who have not mastered their tables will very often fall behind in maths (and other subjects that use maths) and begin to lose confidence. We ask parents for support in helping their children to learn the multiplication tables.
Below are some useful links to help your child practise their times tables: